Acting and supporting change programs, projects and processes of change require a lot of subtlety as well as strategic action that covers two essential dimensions of transformation. Horus has extensive experience
in different projects of change, which include: Implementation of Systems, Culture and Structure, Processes, Outsourcing, Shared Services, among others. Learn more about our approach and differential market performance.

Objective: To support the processes of change and transformation of institutions, organizations, entities, cities and states.
Differential: Acting under the two dimensions, which we call the "lobes" of the transformation, in a balanced way, ensuring consistency in the process to reach the established objectives.
Horus performs in diverse scenarios and contexts of change and transformation from the strategy to the execution, being only one scenario or the combination of them:
EXPANSION AND GROWTH
Support since the Diagnostic stage to the transformation of companies that are in the process of growth and expansion. Look at the business and focus on developing people to support the strategy.
CULTURE/IDENTITY
Support in the construction and definition of the desired vision and identity to be created in the organization: Vision, Identity and Strategy. Support for merger and acquisition processes that result in cultural changes and impacts. Changes in culture due to a adequacy or creation of a new culture that is desired and required.
BEHAVIOR
Development or incorporation of new behaviors that are necessary to achieve the company`s vision and strategy. We elaborate programs/projects aligned to the objectives and the stage of maturity/development of the organization.
STRUCTURE
Support to the processes of structural changes, which generate impacts in organizations, involving: migration of processes to Shared Services Centers or creation of a Shared Center, outsourcing of processes and areas (Outsourcing) or restructuring of areas.
SYSTEMS
Implementation of systems that have significant impact on the company, such as ERPs, CRM systems, among others.
PROCESSES
Improvements and/or changes in processes that cause relevant changes in the organization. Standardization of processes, installation of continuous improvement and new methodologies to operate processes.
Horus Concept on Change and Transformation
   Concept: All activities that support transformation directly, focusing on the dissemination and strengthening of the change itself.
Main areas of activity:
  Strategy of change
   Definition of plans:
  Communication
  Stakeholder Mgt
   Training / Capacitation
  Impacts and Action Plans
Specific Deliverables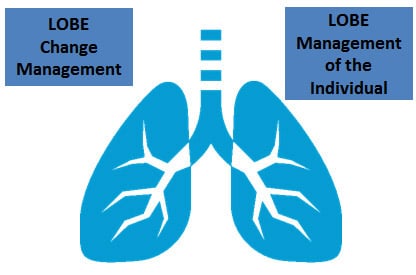 Concept: All activities that support individuals who will be impacted, focusing on awareness and self-knowledge.
Main areas of activity:
  Preparation of the transformation team
  Management / leadership training
Preparing those involved and directly impacted by the change, in order to raise their levels of awareness, maturity and commitment, as well as stimulate self-knowledge
Workshop, Training and Programs
The combination and balance of both lobes should ensure the success of the transformation and will collaborate to achieve the desired results.